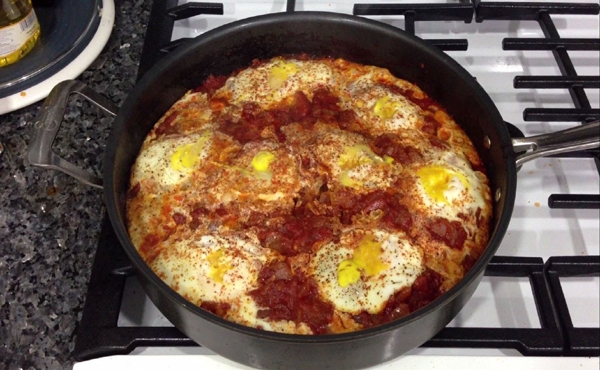 People are todays world are very bussy. Everyday we wake up in the morning and become busy to start the day. Many of us do not have sufficiant time to make breakfast. We eat unhealthy food from hotel. But it is very harmful for our health.
[showhide type="More"]Some of us do take take breakfast for lack of times. It also harmful for health. We usualy take dinner at 10 to 11:30 pm and get sleep. If we do not take breakfast at morning its a long distance betweeen dinner nad luanch. And for a long time we still hungry that may cause acidity problem and many more diseases.
Today here we make a recipe for your breakfast. This breakfast recipe is the world best recipe for your health. Because this is home made breakfast recipe. This food is called Shakshuka. Shakshuka is a Arabic word. Shakshuka  is a dish of eggs poached in a sauce of tomatoes, chili peppers, onions, often spiced with cumin.
What we Need:
Egg
Tomato Sauce
Chili Peppers
Onion
Cumin
Oil
Shakshuka is Israel's hottest breakfast dish. This is the best way to prepare shakshuka, the spicy, warming, vegetable and egg dish that is a regular part of the Israeli diet and is usually served as a cooked breakfast or a light lunch.
The mix of tomato, garlic, herbs and spices, traditionally topped with sunny side up egg, is reputedly a fine hangover cure.
For new videos please like this video. Subscribe our channel "YourTV24.com" and get notification about new videos.
———————***———————
Circle us on G+
google/yourtv24
Like us on Facebook
facebook/yourtv24
Follow us on
twitter/yourtv24
Subscribed us on Youtube
youtube/yourtv24 [/showhide]